The DAX is not going anywhere. The vaccine euphoria is priced into the courses. The number of new infections continues to rise dramatically. Especially since the issue of Brexit and, more recently, the trade conflict between China and the USA are slowing down the financial markets. Christine Lagarde could bring movement into play today.
Before trading, we see the DAX at 13,312 points, about 0.4% below Wednesday's closing price.
Hope for the ECB
Today's highlight is the ECB interest rate decision. Many market participants are hoping that the bond purchase program will be topped up by a further EUR 600 billion. Christine Lagarde could end the constant back and forth with the DAX today with an early Christmas present. However, the expectations are quite high. Hence the potential for disappointment.
Dates that are important for investors
DAX forecast
Yesterday, when trading opened, the DAX had reached its September high of 13,462 points and the daily high of November 30th at 13,447 points. Subsequently, however, the leading German index ran out of steam. Most recently, it fell below the 50.0% retracement at 13,328 points. The pre-trading session is now heading towards the 61.8% fibonacci level at 13,298 points. Below that, a decline should be expected until the last upward movement ended at 13,198 points.
DAX 30 hourly chart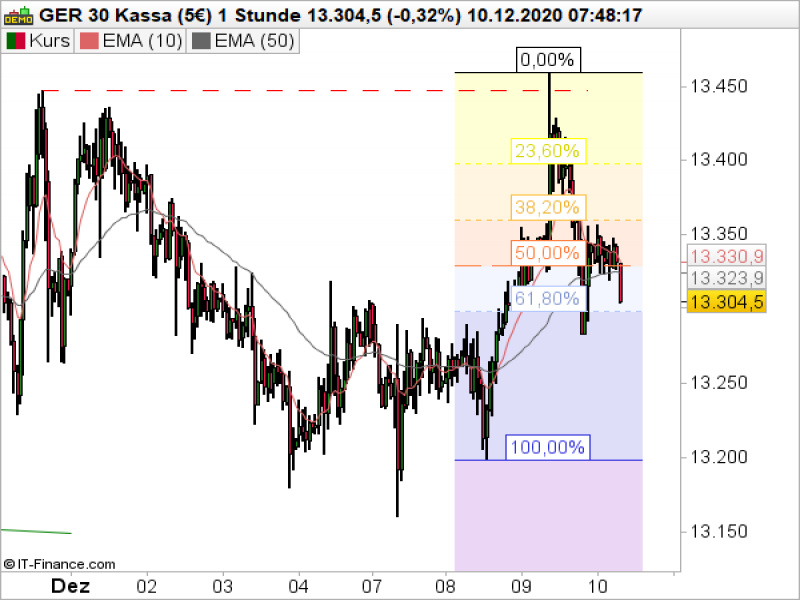 IMPLEMENTATION POSSIBILITIES WITH TURBO24
If you are on the seller's side (put) and think that the DAX will fall in the future, IG turbo certificates with a knock-out level above the current chart resistance zone at 13,460 points could be interesting. Conversely, bullish traders (call) could keep an eye on knock-out levels below 13,000 points.
Would you like to trade the DAX yourself? Make up your mind if you are long or short want to position and open your own CFD trading account or practice trading with our CFD demo account.